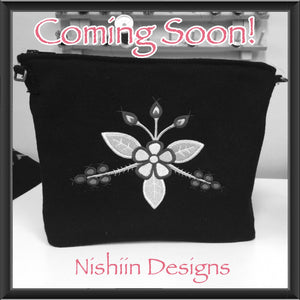 I hope everyone is enjoying this extremely beautiful weather we have been having. It's quite the change up from previous Decembers.  Just wanted to say out loud how glad I am I finally 'figured out' how to keep my website updated via mobile. I did not realize it was possible. ? I will be continuing to add on merchandise as I make it.  Keep checking back as I will be continuing to add items daily! 
---
Happy New Year and belated Merry Christmas everyone! We have decided to change up the look of our website www.nishiin.ca. We will be keeping this page more up to date and have fixed the shipping calculator. However it is always a work in progress. Christmas here was great, we filled a large order for a local organization and everyone loved their gifts. Something new I would like to point out is we now have a mail subscription. This will enable shoppers to sign up for emails. Emails will keep you up to date on the newest inventory, sales and specials...
---
Good evening, I am finally launching my website after months of procrastination. I hope to be able to use this blog and website as a tool to keep anyone who is interested up to date with items I have up for sale. With Christmas coming up around the corner I am hoping to offer a variety of things for everyone in the family. Happy Shopping!